: We've just built the IARS's 99% Campaign website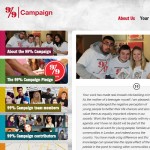 We worked with the influential Independent Academic Research Studies (IARS) think tank on their 99% Campaign digital platform.
We consulted, advised and built the digital technology at the heart of their website. This enables them to provide young people with a virtual arena within which they can share their stories, experiences and the issues that affect their daily lives.
"We were delighted to have worked with IARS on such a significant project. Being able to successfully design digital participation tools that connect with and are accessible to young people was a fantastic experience. It was great to be involved." – David Hutter, lead developer
Read more about the 99% Campaign.
Visit the 99% Campaign website.